Ultrasound scan: characteristics and types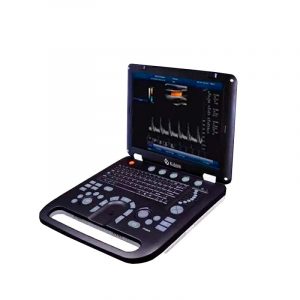 An ultrasound scanner is a medical device that allows images of most soft tissues to be obtained using ultrasonic waves. This instrument allows obtaining diagnostic images from echoes obtained by the emission of ultrasound waves (the most common).
Ultrasound scanners feature a device called a transducer, which emits ultrasound waves. These high-frequency sound waves are transmitted to the body area under study and their echo is received. The transducer picks up the echo of sound waves and a computer turns it into an image that appears on the screen.
Characteristics of an ultrasound scanner
The transducer picks up the echo of sound waves and a computer transforms it into an image that appears on the screen. In most cases, the elements that form the transducer are made of ceramic glass called piezoelectrics. These are able to produce sound waves when an electric field passes through them, and they are also able to operate in the reverse direction, producing an electric field when it receives sound waves.
Ultrasounds are high-frequency sound waves (more than 20 000 cycles per second or 20 kHz) that are not audible to humans. Different tissues alter waves in different ways, some directly reflect them and others disperse them in the form of echoes before they reach the transducer. That is, using the speed of sound and the time each echo returns, the scanner can calculate the distance between the transducer and the tissue limit. Deeper reflected echoes are more attenuated than surface echoes. When echoes return to the transducer it is possible to reconstruct a two-dimensional map of tissues and organs.
Structure of an ultrasound scanner
A typical ultrasonic scanner system has a beamer, a central processing unit, a user interface (keyboard, control panel, trackball), several probes (transducers or scanning heads), one or more video screens, some type of recording device and a power supply system.
For ultrasonic imaging, a probe is placed on the skin (after applying an acoustic coupling gel) or inserted into a body cavity. As mentioned, ultrasonic probes have elements made of piezoelectric materials (materials that convert electrical energy into acoustic energy and vice versa). When the ultrasonic energy emitted from the probe is reflected by the tissue, the transducer receives some of these reflections (echoes) and transforms them back into electrical signals. These signals are processed and transformed into an image
Types of ultrasound
4D ultrasound.

3D Ultrasound.

2D Ultrasound.

Genetic ultrasound.

Musculoskeletal.

Soft tissue.

Neck.

Thyroid, mammary, testicular, transvaginal, pelvic, renal, vesicoprostatic, inguinal, abdominal wall, complete abdomen, upper abdomen, liver and bile ducts.

Obstetric, venous, arterial, color Doppler.
What are the medical applications of ultrasound scanner?
An ultrasound scanner is used in radiology, imaging, and other clinical departments, as well as in independent imaging centers and private medical offices.
Some equipment includes additional transducers to facilitate more specialized diagnostic procedures, such as cardiac, vascular, endovaginal, endorrectal, or small-part scanning (e.g., thyroid, breast, scrotum, prostate).
What do we offer you in Kalstein?
Kalstein is a company MANUFACTURER of medical equipment of the highest quality and that have the most advanced technology available at the best prices of the market, so we guarantee you a safe and effective purchase, knowing that you have the service and advice of a company specialized in the field.  This time we present our Doppler Color YR05150. This new equipment has the following characteristics:
Large 15-inch color LED display with real Doppler function, USB ports and VGA port and 2 probe connectors.

Built-in battery, which can be contentiously worked for at least 3 hours when powered off.

Primary Application: Abdomen / Cardiac / Obstetrics / Gynecology / Urology / Andrology / Small Parts / Vascular / Pediatrics / Musculoskeletal and so on

IMAGE MODES: B, 2B, 4B, M, B / M, B / C, B / D, B / C / D, B / CFM / D, CF + B model simultaneously, PDI Color, Dual Color, Simultaneous Sim 2D / 3D / 4D Color Composite, PW, CW Duplex / Triplex, CFM, CDE, PD, PD directional, CD. Anatomy M, Color M Mode

Doppler color based on Windows PC, which can connect with any printer of any brand. The printed area is adjustable, which can be images, reports or image + report, etc.

Built-in DICOM 3.0 protocol

Multi-Language Function: English, Chinese, Spanish and Portuguese, Russian, Arabic, French, Vietnamese, Indonesian, German, Persian, Thai, etc. HERE
For more information we invite you to take a look  HERE