What technical features do the different types of automatic blood chemistry analyzers offer for the laboratory?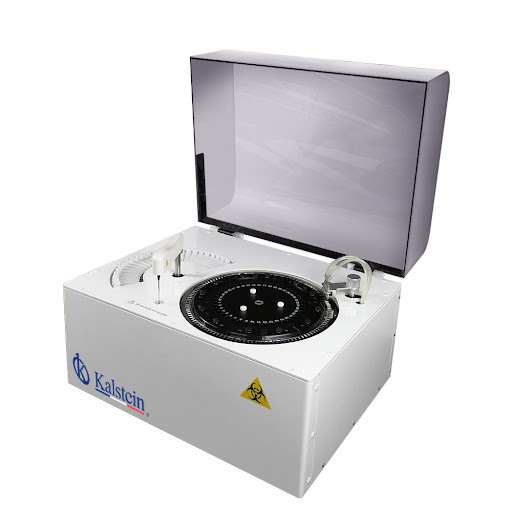 Automatic blood chemistry analyzers are devices intended for rapid measurement of a wide variety of blood parameters. These devices can detect patterns of abnormalities, and their analysis after analysis of the blood sample is much more accurate and reliable than a manual test. Their use helps detect and treat chronic diseases and infections before they become more serious diseases, which can save lives.
Automatic blood chemistry analysers for the laboratory offer a variety of technical features, allowing laboratories to perform tests more efficiently and with higher quality. These systems are equipped with a number of advanced technologies to ensure accuracy and optimal performance. Blood chemistry tests also provide important information about overall health and its continuous improvement.
Technical characteristics offered by automatic blood chemistry analyzers for the laboratory
Automatic blood chemistry analysers for the laboratory are advanced equipment specially designed to automate clinical analyzes and deliver accurate results. These tools allow sampling, processing and analysis to take place in just a few minutes, so results can be obtained quickly.
These kits have several technical characteristics that make them ideal for any clinical laboratory. They are designed to process blood and tissue samples more efficiently and quickly, giving accurate and reliable results, have an automated analysis system that ensures greater accuracy, allowing to reduce errors, and facilitates testing and results. This automated device helps reduce mixtures and errors in final results. In addition, the analyzers feature an easy-to-understand touch screen as well as hundreds of pre-defined profiles for specific testing.
Another important feature to note is that they have great time savings and increased productivity. In addition, they have a simple connection to the computer, making data storage and retrieval easier. The automatic analyser also has a high quality printer to print results instantly, eliminating the need for paper and saving time in interpreting the results. In conclusion, automatic blood chemistry analyzers for the laboratory, thanks to their efficiency, durability, accuracy and ease of use, can help improve the quality of results and reduce costs in sample processing.
Automatic blood chemistry analyser for laboratory
In the world of modern medicine, the analysis of blood chemistry is a critical tool in the early detection of diseases. It is considered a highly sensitive test that helps identify early-stage diseases that can be life threatening. Automated analysis consists of using technology to perform medical analyzes in the laboratory, this analysis system is designed to read and process a large number of analysis results quickly, accurately and reliably. The system saves time and energy, both for the lab and the doctor. It also provides consistent and accurate results, deeply preventing the doctor from incorrectly deciding on any specific condition.
On the other hand, the apparatus used to carry out this type of analysis is the automatic blood chemistry analyser, which is a modern precision device that allows reliable and accurate clinical analyzes to be carried out quickly. This machine allows full chemical analysis of the blood sample and provides a comprehensive clinical and diagnostic view. It also has a high accuracy rate and are used in hospitals and clinics to diagnose various diseases and facilitate their early treatment.
Automatic blood chemistry analyser for laboratory
At kalstein we are MANUFACTURERS of automatic blood chemistry analysers, positioning ourselves as the market leaders. Our equipment offers reliability and precision in the analysis of blood samples, designed to be easy to operate and provide quick results, as well as having a wide range of parameters and options to customize the tests. They also have an intuitive interface and data storage for greater efficiency. Moreover, we also have state-of-the-art equipment, with proven value to offer accurate and reliable results, in addition to having high quality and technology with the best PRICES in the market. If you are interested in making the PURCHASE of some of our automatic analysers that we have available for sale, you can review our catalog through this link: HERE. To view our other products and equipment, see HERE