Discovering the YR Kalstein Laboratory Analyzer Models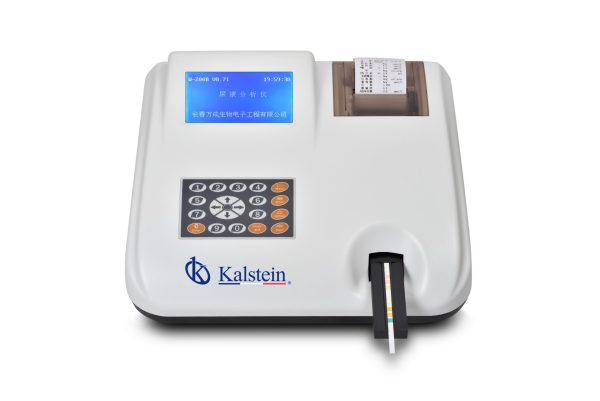 Laboratory analyzers are essential equipment for diagnosing and monitoring medical conditions. From urinalysis to hematology testing, these devices come in various forms depending on the sample to be analyzed and the parameters required. Kalstein YR models stand out for their high quality, accuracy, and functionality, facilitating the work of laboratory experts.
Kalstein being a manufacturer we have high quality and efficient equipment, a variety of models that meet the most demanding measures of your laboratory, although the variety is wide we will try to offer the most outstanding models in each category, so you can make a decision to deepen their characteristics, and choose the one that best suits your needs. 
Urine, Coagulation and Semen Analyzers 
Kalstein YR urine analyzers are used to detect and measure various components in urine, such as protein, glucose and bilirubin. These devices are perfect for quick and accurate diagnosis of kidney and urinary tract diseases.
YR05181 Urine Analyzer: A urine analyzer is a device used in the clinical setting to perform automated urine tests. The units can detect and quantify a range of analytes including bilirubin, protein, glucose and red blood cells. Learn more https://kalstein.pl/product/urine-analyzer-yr05181/ 
YR05180 Urine Analyzer: is a high performance multi-functional medical inspection instrument. Adopting the advanced technology of "high brightness cold light source reflection determination" and D-pipe architecture, users put the test strips on the platform at any time and do not need to consider the reaction time. More information https://kalstein.pl/product/urine-analyzer-yr05180/
Kalstein's coagulation analyzers are essential for testing blood coagulation and anticoagulants. They are indispensable in the prevention and treatment of thrombi, or dangerous blood clots. YR05117 Coagulation Analyzer; features such as low reagent consumption less than 2oul, open reagent. Special test vessel location system, adding sample holder, Advanced optical light combination system ensures accurate result. Optional PT-derived method to analyze fibrinogen, Decrease regeant dose, Top quality thermostat, accuracy 37°C ± 0.3°C; know the model https://kalstein.pl/product/coagulation-analyzer-yr05117/
YR05119 Seminal plasma chemistry and immunoassay analyzer: Seminal plasma chemistry and immunoassay, Built-in computer, Windows system, operate with mouse and keyboard, 8-channel fiber spectroscopy system, Internal incubator, temperature accuracy: ≤ ± 0.3 ℃, Printer: external printer, report on A4 paper. If you want to check its functions visit https://kalstein.pl/product/yr05119-chemistry-immunoassay-analyzer-for-seminal-plasma/
Electrolyte, Hematology and Chemistry Analyzers
Kalstein brand electrolyte analyzers determine the levels of key electrolytes in the blood, such as potassium and sodium, which is crucial for the diagnosis and monitoring of kidney, heart and respiratory diseases. Among some of the models is Electrolyte Analyzer YR05167 // YR05176: Automatic software tracking and correction of electrical potential to ensure stable operation, Automatically detects and filters out tiny bubbles to prevent clogging and ensure accurate measurement. Real-time diagnostics of system operating status. Automatic detection and alarm of residual liquids. Automatic calibration and two-point correction to adjust slope and intercept. https://kalstein.pl/product/electrolyte-analyzer-yr05167-yr05176/
YR hematology analyzers are highly technological devices designed to quantify and classify blood components. This process is essential for diagnosing conditions such as anemia or leukemia. An example is YR05122-1 Hematology Analyzer: 5-part white blood cell differentiation, 29 parameters, 3D scatter plot and 3 histograms, Triangular laser scatter and flow cytometry technology, Whole blood mode, prediluted mode and capillary whole blood mode, 3 reagents for analysis, RF card locking system, 14 inch high resolution touch screen (1366*768), 60 samples per hour, visit us https://kalstein.pl/product/hematology-analyzer-yr05122-1/
Finally, Kalstein's chemistry analyzers are the perfect solution for measuring various chemicals and compounds in biological samples, essential for clinical diagnostics. At Kalstein we have the Fully Automatic Chemistry Analyzer YR05123: Fully automatic mini chemistry analyzer, Discrete/Random access, STAT sample priority, Easy to use, User friendly interface, No computer, Internal thermal printer, Direct print report, All in one machine. Learn about it https://kalstein.pl/product/full-auto-chemistry-analyzer-yr05123/
HbA1c Analyzer
Kalstein's HbA1c YR analyzer measures blood glucose level in the last quarter, which helps determine how a person with diabetes has managed. This device is critically important in diabetes management. We have HbA1c Analyzer and Reagents model YR05129; Test with whole blood directly, 2 steps can get the result, Self check when power on, Storage with 10000 test results, Optional Bluetooth wireless barcode reader, can work at 30 meters. More information https://kalstein.pl/product/hba1c-analyzer-and-reagents-yr05129/
Kalstein YR models offer a wide range of laboratory analyzers, perfectly designed for various diagnostic needs in the medical field. They provide accurate, fast and reliable results in all applications, from urinalysis to diabetes monitoring. With their commitment to quality and technological innovation, Kalstein products are an undisputed choice for any laboratory. https://kalstein.pl/category-product/laboratory-line/analyzers-laboratory-line/