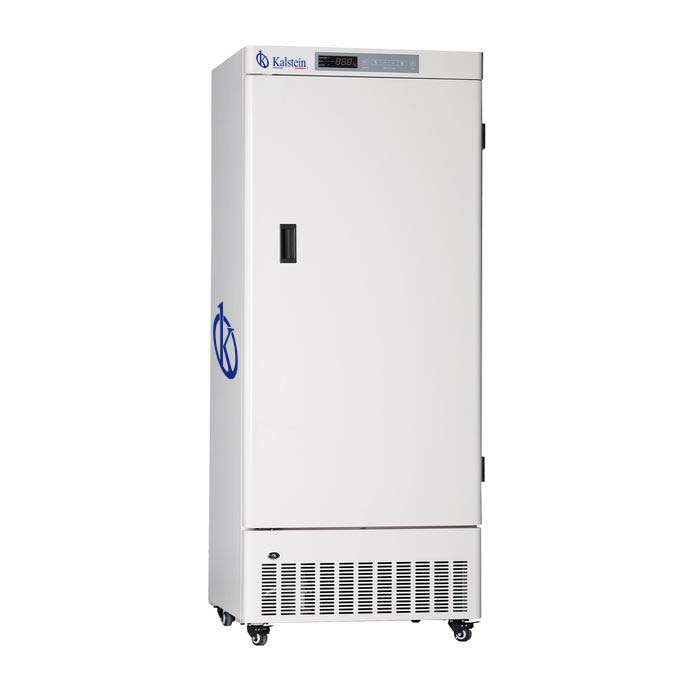 The laboratories are scientific spaces for research, experimentation, where different types of examinations and evaluations are carried out that require the conservation, protection and storage of samples; laboratory users know the needs of the products they require in the special spaces of science, medicine and industry; this is the case of deep freezers, special equipment that provides reliability and safety to the samples.
KALSTEIN brand deep freezers are designed with a high-precision computerized temperature control system, audible and visual alarm system, delay protection function and ignition interval stop, designed with two compressors and two chambers, have a high-efficiency closed compressor that allows energy savings and low noise level; allowing the preservation of materials such as cells, tissues, yeasts, viruses, bacteria and vaccines that require certain temperature and freezing requirements to be stored safely and reliably.
How does a deep freezer work?
Knowing the function of deep freezer that is to store in a prolonged way different samples under special temperatures, such as cryogenic, or electrofacial freezing, which is a process that occurs in a very fast period of time, that is, 120 minutes maximum; at a freezing below -40°C, it is a very abrupt cooling procedure where it quickly reaches maximum crystallization, which allows the physical structure of the products or scientific samples to be preserved.
The procedure is completed by achieving the thermal stabilization of the sample at -18° C, however, to finally achieve the decrease in temperature, cryogenic fluids are used, among others, which are the ones that open the way to deep-frozen products; there are also deep freezers that use a mechanical compression system that makes it easier to review at the -40°C barrier and offer a high level of safety and reliability for different biological, chemical, industrial and medical samples.
Deep freezers for prolonged storage
Within the functionalities of the deep freezers is to guarantee a constant minimum temperature with a precision of degrees, which allows the prolonged storage of samples at cryogenic temperatures, required in biological, chemical and medical samples, the characteristics of these equipment allow to be used in the pharmaceutical or medical industry, in different areas of sciences, industries, food sector, and even electronics, where the most advanced technology is required to give comfort and great versatility of applications and handling.
The design of these freezers requires that they be able to guarantee in depth the structures and maintain the effectiveness of the components, they are required for the control, maintenance and reliable and safe conservation of samples, vaccines, reagents, tissues, blood, and other biological materials; these devices prevent the formation of microorganisms, enzymatic activity or nutritional loss; and although they use fluids such as nitrogen and carbon dioxide for deep freezing, these fluids are non-toxic and prevent the formation of macro-crystals, which do damage the structure of the sample.
Importance of deep freezers in laboratories
The importance of this equipment lies in its variety of applications and functions within laboratories, we know perfectly well that laboratories need special equipment for the storage of samples, if it is true that there are samples that do not require special refrigeration, however, for the storage of special materials, blood plasma, biological products, scientific materials, protection of vaccines, long-term storage of samples without damaging their atomic structure, protects cold infrastructures, it is necessary to have a deep freezer.
For the acquisition of a deep freezer, technical advice or any concern of other equipment in the medical or laboratory line you can do them through our online purchase channels that are very easy and viable, remember that we KALSTEIN, we are high-level manufacturers, with great demand for purchase and sale worldwide, we visit our website, and enjoy the advantages of guarantee and commitment, ensuring a team with superior technology and high performance. Remember that we have a variety of models that have design, different adjustments, parts and structure ranging from the concept of simplicity and effectiveness, reliability and low cost. HERE