Protecting users of hotplates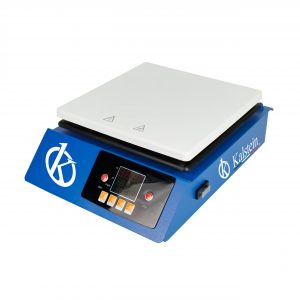 Hotplates are very popular and are used in a wide variety of situations, from the home to industry, whether they are used for cooking food, in a machine shop for welding, or even for heating your home; these efficient little devices have great potential. 
However, because of the energy they are powered by, and the temperature to which they heat, adequate protection is needed for potentially exposed users; for starters, there is the basic concept of safety logic. 
Features that heating plates possess for laboratory use
Although people like heat, no one wants to be burned, which means it is important to ensure that users do not accidentally touch a hot surface; some warming plates have insulating heat shields to reduce the risk of burns, as well as built-in temperature control devices to keep the temperature within the safe range. 
In addition, some plates have a built-in timer to automatically shut them off after a certain period of time; it is also important to take precautions in industrial environments. 
If heating plates are used for welding work, operators should wear appropriate safety clothing and be equipped with respiratory protective equipment to prevent inhalation of toxic fumes. 
Users should carefully read the manual for the heating plates before installation to avoid future injury
In other situations, such as heating a room, it may be helpful to wear protective shields to prevent contact with the plate; awareness is also an important part of minimizing the risk of injury related to heating plates. 
Users should be aware of how dangerous they can be, especially young children or older family members with reduced mobility; it is recommended that the included manual is always read to ensure that safety procedures are being followed. 
There are several ways to protect yourself, from heat shields to user awareness; it is important to remember that nothing is worth more than adequate safety
It is very important that responsible users regularly inspect heating plates; if there is any sign of damage, that plate may be very unsafe; they should be replaced immediately if there is textual damage to the electrical elements and even an old heating plate should be replaced with a new one to avoid any risk. 
In conclusion, it can be very useful to use a heating plate for a wide variety of tasks; however, it is important to take some safety precautions to avoid future injuries. 
For Kalstein as a MANUFACTURER it is of utmost importance that specialists purchase good quality heating plates for their laboratories
Users can visit our website HERE and enjoy great offers, as we are MANUFACTURERS and can guarantee their effective purchase.
To get sophisticated and top quality equipment regarding heating plates just click on the following link and choose the one that fits your needs HERE